Having A Personal Guide Is Crucial To Your Health Transformation Journey
Do you want to get physically fit but don't know where to get started?
Is maintaining a particular diet difficult because you have no one to teach you how it works?
Do you believe that strict low-calorie diets are the only sustainable way to lose weight because that's what your research told you?
Need someone who understands women's health and hormones?
Do you want to be guided toward effortlessly making a difference in your health?
About Nurrish's 1-on-1 Private Coaching.
In the past, achieving a healthy lifestyle was challenging for everyone, especially those struggling with hormonal imbalances. However, with Nurrish's 1-on-1 Private Diet Coaching, a custom diet plan is available to help individuals reach their fitness goals, regardless of their specific health concerns.
At Nurrish, we believe that diet programs should fit individuals, not the other way around. Since 2015, I have been helping women achieve better overall health as a designated nutrition expert. In 2019, I founded Nurrish (formerly Nourish With Sim). Our 1-on-1 program starts with building a personalized toolkit that fits not only your dietary needs but also your lifestyle.
Our programs are all evidence-based, and you will be assigned dedicated nutritionists who will provide a highly customized diet plan and monitor your progress every step of the way. Moreover, we understand the cultural aspect of food, and our program takes into account your cultural preferences, making it even more tailor-fit to you. We vow to help you achieve a healthy, well-balanced diet without sacrificing taste.
Schedule a call today to find out if Nurrish's 1-on-1 Private Diet Coaching is right for you.
Nurrish 1-on-1 Private Diet Coaching
Nurrish is a 3-month program that helps you improve your health and well-being. You don't have to change your routine or spend a great deal to achieve specific and doable results. You will also have access to a specialized all-female team of nutritionists who will give you a diet plan that is not only nutritious BUT delicious food.
With Nurrish, you can enjoy...
A flexible, healthy, and balanced lifestyle.
A successful inside and outside body transformation.
A health program that takes your health concerns into account.
A health program that circulates around women's health.
A diet plan that crush cultural challenges.
A diet plan that lets you eat your cultural foods.
An app to track your fitness progress and stay motivated.

And more...
because UR
Your needs are unique to you, so should your diet plan.
Here are some of our custom solutions:
This Program includes the following:
Flexible Planning allows you to modify and strategize according to your needs.
Pre-scheduled weekly private counseling session.
Two Personal Diet Coaches who will guide you every step of the way.
Daily Meal Reviews and confidential conversations with a dedicated female nutritionist specialized in women's health & hormones
Exclusive Community Access to our safe and inspiring online group where you'll receive support, encouragement, and motivation from women on similar journeys.
Optional Workouts for home or the gym with a variety of exercises that can be modified to your equipment preferences and current fitness level.
+ PLUS Learn how to build your own menu plan with our menu expert
Investigative Program
2-week Investigative Program
In-Depth Investigation Call
Detailed Analysis: Holistic assessment of your situation.
Comprehensive 2-week analysis.
Investigating for underlying health concerns
Phased Approach Suggestion
Eating Style Assessment: Find your nutritional patterns.
Three Consultation Sessions
Let us understand your challenges and provide tailored suggestions for a healthier lifestyle. Start your transformative journey today!
Best Seller
Primary Program
Comprehensive 3-Month Nutrition Program
In-Depth Investigation Call
3-month guided approach.
Custom Built Diet Phases
1 Dedicated Female Nutritionist
Fortnightly Calls
Personalized Goal Setting
Daily Meal Reviews: Expert feedback on your meals.
Daily Chat Access to your Nutritionist*
Weekly Progress Tracking: Monitor achievements and adjust.
Bonus:
Choose from 10+ workout programs to suit your level
100+ Quick Workouts
4 Week Additional Access to Workouts
6 Months Additional Access to In-App Challenges
1000+ recipe collection
Lifetime Support*
Premium Program
Everything in the Primary Program Plus:
Additional Nutritionist (Team of 2)
Weekly Review Calls
Monthly Personal Menu Planning Session
Proprietary Eating Personality Diets
Personalized Supplement Recommendations
7 Spheres Deep Health Evaluation
Personal Habit Toolkit Building
Stress Web Evaluation
Circadian Rhythm Counseling
Cycle Tracking and Syncing (optional)
Bonus:
Everything In the primary program +
Special Festival Diets
Early Insider Invite to Webinars & Live Sessions
Exclusive Innercircle Benefits
Real People, Real Struggles, Real Results
Are you ready to be the best version of yourself?
Can't find what you're looking for?
If you're looking for a specific program that isn't part of the listing above, contact us to find out how we can help.
Discover how 's Private Diet coaching has helped women like you reach their goals!
makes it effortless to reach your goals.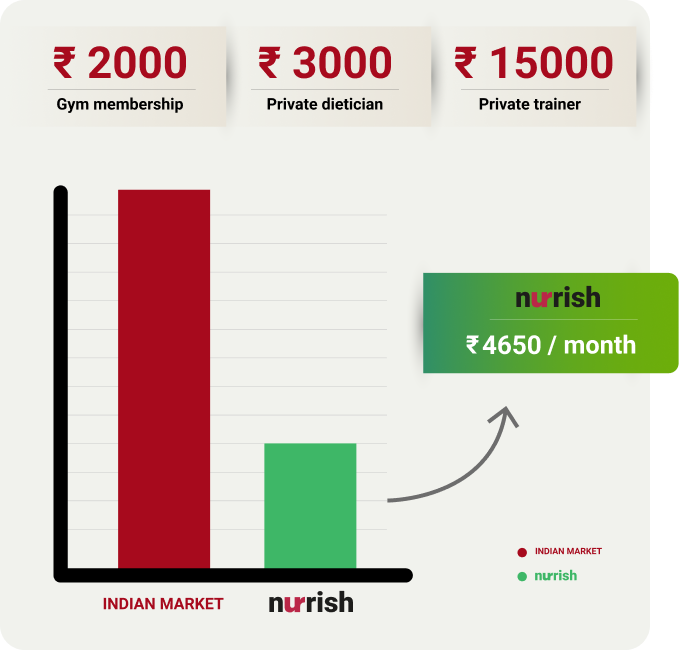 With our programs, you can:
Celebrate yourself, love your body, and own your accomplishments.
Enjoy a custom program built by a highly trained team that understands Deep Health.
Shorten workout time, maximize effectiveness, and achieve fitness goals.
Live fully, eat what you love, and sustain lasting results.
Learn how to adapt your diet while staying on track.
Simplify your life and deeply support your health.
Have a better gut and better hormones.
Master the basics of nutrition, and find what works for you.
Enjoy becoming a part of a community of women on the same journey.
Get health and happiness, nothing in between.Nurrish is the ultimate tool to get you into good health and great fitness
Need help deciding which plan is right for you?